Nothing is better on a hot summer night than a cool ice cream treat, especially in Florida where heat and humidity combine. Frostbite Nitrogen is the go-to shop for sundaes, cones, cups and a variety of unique and exotic treats that are a perfect way to stay cool on a warm, languid night.
Ice cream connoisseurs will find nitrogen-infused ice cream at the uniquely-themed steampunk shop, along with nine alcohol-infused ice cream creations inspired by popular cocktails. Individuals can choose from ice cream, yogurt or non-dairy vegan ice cream, along with a multitude of toppings for over 3 million combinations.
Fans can sip a light bulb smoothie or indulge in a billionaire golden Oreo sandwich stuffed with custom flavors. The shop's Japanese cereal puffs are infused with liquid nitrogen that imitates a dragon's exhalation and the shop offers a selection of giant cookies, fudge brownies, and cinnamon churros. Frostbite Nitrogen also offers catering and delivers via Uber, Postmates and Doordash.
While ice cream tops the list of cool treats for a warm summer night, there are dozens of options that can be made at home ranging from popsicles and frozen lemonade-type drinks in various flavors to fruit sorbets and key lime pie cannoli. Slushy Jell-O, homemade Slurpees, and frozen candied fruits are healthy, easy and inexpensive to make. Frozen fruit can be dipped in chocolate and yogurt bites can be frozen for on-the-go eating.
Cool treats to beat the summer heat isn't limited to the younger set. Adults can make their own versions of a unicorn Frappuccino, coffee or tea-based drinks to rival famous coffee houses, and alcoholic ice cream floats.
No matter what your pleasure, it's important to stay cool in Florida's heat and humidity. It can be fun for the kids to have a homemade treat, but Frostbit Nitrogen and its extensive range of ice cream treats are the perfect solution for busy parents on the go that wants to stay cool in the summer heat.
The best way to find out more about Frostbite Nitrogen Ice Cream is to experience it for yourself. Stop in with your kids, friends, Grandparents, date, or even just yourself. You won't be disappointed!  Click our LOGO below to enter our website where you can discover more about us!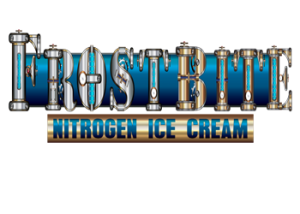 2125 S. University Dr.
Davie, Florida 33324
954-368-3642