A scoop of cold ice cream on a hot night is the ultimate delight. It's delicious on the tongue and cools the body. For many people, the only way to eat ice cream is in a cone. Traditions vary widely and the scope of ice cream cones may surprise you.
Wafer/Cake Cones
Flat on the bottom, it eliminates the leaking problem of the truly cone shaped ice cream holder. It's flaky, offers a softer crunch than other types, and is typically the first cone to which children are introduced. Wafer cones are neutral in flavor, making them an ideal choice for really intense ice cream flavors.
Waffle Cones
The waffle cone is often called the "fancy" version of a sugar cone. It features the signature waffle design and is highlighted by a top edge that's uneven. They're a little bit softer and bigger than a sugar cone and have a higher sugar content than sugar cones.
Sugar Cones
Often mistaken for a waffle cone, it has waffle marks but is slightly smaller than a waffle cone. They have a satisfying crunch, but can be brittle. Even all around the top, they're sturdy and don't get soggy. Most modern sugar cones have a "plug" of chocolate at the pointy end of the cone to help mitigate leaking.
Pretzel cones
A trend that comes from Philadelphia, PA, pretzel cones combine the crisp and salty crunchiness of a pretzel that blends well with ice cream flavors. The pretzel cone grew out of a Pennsylvania Dutch tradition of dipping pretzels in ice cream. Created by a dentist, pretzel cones have been available since 1986.
Puffle Cones
A relative newcomer on the ice cream scene, they're also known as Hong Kong waffles. Puffle cones are actually a common egg-based street snack cooked in a special waffle mold and folded into a cone shape. The exterior is slightly crisp and features a light, airy and chewy inside that's pleasing to the palate. Resembling edible bubble wrap, they're typically eaten warm as a counterpart to the coldness of the ice cream and served in a cardboard holder.
The best way to find out more about Frostbite Nitrogen Ice Cream is to experience it for yourself. Stop in with your kids, friends, Grandparents, date, or even just yourself. You won't be disappointed!  Click our LOGO below to enter our website where you can discover more about us!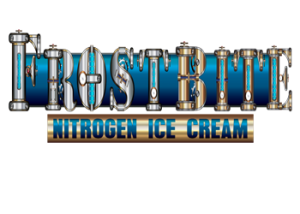 2125 S. University Dr.
Davie, Florida 33324
954-368-3642