The classic malted milk celebrated as a staple of the 1950s has been altered over the years to reflect changing tastes. Commonly known as a "malted," it's retained its thick and creamy texture and now bears the name of milkshake. Popular with kids and adults alike, the malted milk began its life in American history as infant formula.
Its creation is credited to pharmacist, James Horlick, who came to Racine, WI in 1873. He and his brother, William, patented the formula and trademarked "malted milk" in 1887 as a drink for infants and invalids. It became an indispensable staple of explorers. It was lightweight, highly portable, nourishing, and non-perishable. The British Indian Army took it with them into battle during World War I.
The explorer, Admiral Richard E. Byrd, took it with him during his explorations and named a mountain range after Horlick. When he returned to his native England, Horlick was made a baronet in honor of his accomplishment.
Historians credit the invention of the blender as a defining moment in the evolution of the malted milk. The appliance allowed a variety of ingredients to be combined together without the exhausting work of hand mixing. It's said that Walgreen employee, Ivar "Pop" Coulson, first mixed ice cream into the blend when he ran short of another ingredient, thus creating the first malted milk in 1922 Chicago.
The heyday of the malted milk was the 1950s and the sweet beverage could be found at every diner, burger joint, and pharmacy lunch counter. Much of the confusion about the drink comes from the diversity of the U.S. lexicon. It was known as a malted milk, milkshake or shake depending on the region. Concrete was a shake so thick it wouldn't drip even if it was held upside down.
Malted milk has diverged substantially from its roots as Horlick's dry infant formula. The malted milk is commonly called a milkshake, but it still evokes a nostalgia associated with the 1950s, poodle skirts, and soda shops. Today's malted milks often harken back to their even earlier roots when they were hand-shaken and whiskey was a predominant ingredient. At one point, the CIA even attempted to weaponize the delicious drinks.
The best way to find out more about Frostbite Nitrogen Ice Cream is to experience it for yourself. Stop in with your kids, friends, Grandparents, date, or even just yourself. You won't be disappointed!  Click our LOGO below to enter our website where you can discover more about us!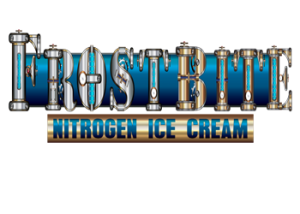 2125 S. University Dr.
Davie, Florida 33324
954-368-3642