Forget the local bar if you're looking for something sweet, soothing and alcoholic. You can obtain all-three objectives at Frostbite Nitrogen and enjoy happy hour with a twist with its alcohol-infused ice cream. The famous flavors won't make you tipsy and you won't have to call a cab to get home safely.
The ice cream flavors are sweet and delicious indulgences for the connoisseur that wants to merge their favorite ice cream flavor infused with 24 percent alcohol. At south Florida's first steampunk-themed ice cream shop, individuals can whet their whistle with the following flavors based on popular cocktails.
Cake Batter Vodka Martini – cake batter ice cream, sprinkles, vodka
Chocolate Chip Mojito – mint ice cream, chocolate chips, mojito mix, rum
Cookies & Irish Cream – cookies and cream ice cream, Oreo's, Irish cream, vodka
Frisky Whiskey – chocolate salted caramel ice cream, fudge, whiskey
Mango Margarita – mango ice cream, tequila, margarita mix, triple sec
Pina Colada – coconut ice cream, pineapples, rum, coconut rum
Spiked Coffee – coffee ice cream, brownies, Kahlua coffee liqueur, vodka
Strawberry Cheesecake Daiquiri – strawberry ice cream, cheesecake, rum
Tipsy for Nutella® – Nutella® ice cream, brownies, Choco Noir®, vodka
The alcohol-infused ice cream is a new twist on an old treat that's an ideal solution for happy hour celebrations. A small infusion of nitrogen makes the ice cream extra smooth and creamy for perfect blending with the alcohol. The iconic shop is a favorite of local residents and has become one of the must-have experiences for visitors from around the globe.
The signature alcohol-infused ice cream flavors at Frostbite Nitrogen combine with the ice cream shop's unique décor for a one-of-a-kind experience. Kids aren't the only ones that love ice cream and Frostbite Nitrogen is the perfect destination for those that have dreamed of the day when ice cream and alcohol would be fused into a single treat for the adult that's still young at heart.
The best way to find out more about Frostbite Nitrogen Ice Cream is to experience it for yourself. Stop in with your kids, friends, Grandparents, date, or even just yourself. You won't be disappointed!  Click our LOGO below to enter our website where you can discover more about us!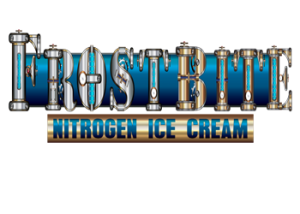 2125 S. University Dr.
Davie, Florida 33324
954-368-3642