In the world of sweet treats and mega-desserts, foodies all over the world over are always on the lookout for the next big thing.  Here at Frostbite, we have discovered a totally new and completely amazing way to enjoy the fantastic fun of frozen desserts.
Dragon's breath is an awesome frozen dessert that literally lets the eater breath vapors out of their nose and mouth – making them look like, you guessed it, a fire-breathing dragon!
Unusual, uber cool and totally Instagram worthy – Dragons Breath is the next big thing in frozen fancies.
What Is Dragons Breath?
Legend has it that, according to the Glutto Digest at least, the dessert was originally invented and served at a bar by Jose Andres back in 2008.  After Andres stopped serving his odd-looking sweet stuff in his Los Angeles based Bazaar restaurant, it began to spread like – dare we say it — wildfire, throughout Taiwan, Korea and the Philippines.
Made using cheese puffs or sugary cereal dipped in liquid nitrogen, the eater can enjoy cups of gloriously chilly desert balls, that will produce super cool vapors when eaten.  As the condensed moisture makes its way out of your mouth, you not only get to enjoy the novelty of it, it also makes for a great way to enjoy a few laughs with friends or take awesome pictures for social media.
Remember though, Dragon's Breath is cold!  So cold in fact that we recommend you enjoy the funky frozen snack with a stick, not your fingers, and blow on it several times to let the liquid nitrogen evaporate. Diners can also buy dipping sauce, like chocolate, vanilla and strawberry, to add more flavor to the dessert.
Why We Love Dragons Breath
Here at Frostbite, we love creating innovative new flavors and taste sensations. Our Dragons Breath desserts are super awesome, and our colorful cereal puffs taste a little like Fruit Loops with all that extra frozen fun. Our creamists pour liquid nitrogen all over the cereal, flash freezing it and creating a fog that spills out, making it look like a glorious bubbling cauldron.  Join us to skewer those sweet and crunchy puffs and toss one into your mouth.  Savor the flavor and you'll soon be breathing out clouds of smoke, that will make you feel like a dragon for just a few seconds.
Is Dragons Breath Safe Though?
We know that this has been discussed in the media, but we've been serving up unusual frozen ice creams to happy customers in Florida for some time now.  We ask that our diners refrain from touching the liquid nitrogen or ingest it.  Thing is, all of that super cold nitrogen has evaporated by the time your dessert is ready to eat, so it should never be a problem, but just to be safe, stay clear of the nitrogen liquid that has settled at the bottom of the cup.
Unusual Frozen Desserts from Frostbite
It's not just dragon's breath we offer, our diners can choose from millions of freshly frozen flavor combinations, signature sundaes, alcoholic ice cream, light bulb smoothies and even our Golden Oreo ice cream sandwiches.  Whatever you want – we've got it!
The best way to find out more about Frostbite Nitrogen Ice Cream is to experience it for yourself. Stop in with your kids, friends, Grandparents, date, or even just yourself. You won't be disappointed!  Click our LOGO below to enter our website where you can discover more about us!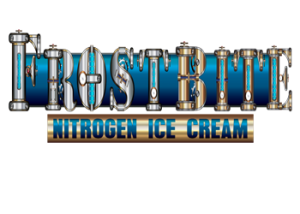 2125 S. University Dr.
Davie, Florida 33324
954-368-3642