Neapolitan ice cream – that delicious blend of strawberry, vanilla and chocolate – has an international ring to the name and its true origins are still debated. Neapolitan was the moniker given to the combined ice cream flavors in honor of its supposed Italian origins.
The first known recipe for a three-flavored ice cream comes from the head chef of the Royal Prussian household in 1839. The first Neapolitan ice cream from Italy contained pistachio (green), strawberry (red) and vanilla (white) in honor of the Italian flag.
When the dessert moved to the U.S., chocolate was substituted for pistachio as it was one of the "big three" flavors most popular throughout the nation. Neapolitan was the first to combine three flavors in a single package and was introduced to U.S. ice cream fans in the 19th century.
In some areas of the world, it's known as harlequin ice cream, more closely resembles gelato, and may combine ice cream with layers of fruit and other sweets. In 1885, specific "rules" for the cutting of Neapolitan ice cream were laid out. It was to be served thinly sliced so each person received a portion of each flavor. In other locales, it could include cake or brandy-flavored bread served between the layers of ice cream.
In the early 19th century, the sale of ice cream as a favored dessert began to decline in Europe. In an effort to bolster sales, European ice cream makers introduced spumoni to the U.S. in the 1870s and it quickly morphed into the strawberry, chocolate and vanilla that's known today.
Frostbite Nitrogen is continuing that spirit of innovation with ice cream infused with nitrogen or alcohol, light bulb smoothies, dragon breath snacks, and billionaire-golden Oreo ice cream sandwiches. The steampunk-themed ice cream shop offers an array of toppings for over 3 billion combinations no matter what flavor is your favorite.
The best way to find out more about Frostbite Nitrogen Ice Cream is to experience it for yourself. Stop in with your kids, friends, Grandparents, date, or even just yourself. You won't be disappointed!  Click our LOGO below to enter our website where you can discover more about us!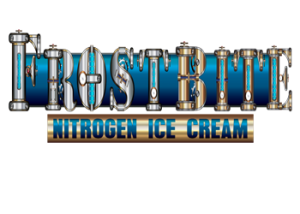 2125 S. University Dr.
Davie, Florida 33324
954-368-3642