Here at we Frostbite Nitrogen Ice Cream, we know exactly how we like our ice cream – freshly frozen and with a bite, but in some other parts of the world, they have very different ideas indeed.  Because we like to know everything there is to know about ice cream, and because we thought you might enjoy it too, here is our guide to ice cream trends from around the world.
Kulfi from India
Kulfi is very similar to ice cream in appearance but it is far denser and creamier than traditional ice cream.  Made in a variety of different flavors – including natural ones like pistachio, vanilla, mango, rose, cardamom, and saffron – this sweet treat is incredibly malleable and is often used by street vendors with a taste for the theatrical.  Often whipped up and served on a stick, Kulfi is a great way to keep cool under the intense heat of the Indian sun.
Dondurma from Turkey
This Turkish ice cream defies the laws of gravity, does not melt or drip easily and can even be eaten upside down.  Teased and then tossed into the air by the vendor, the Dondurma has a unique texture and takes a long time to melt due to the unusual thickening agents and ingredients such as Salep, a flour made from the root of the purple orchid flower and Mastic, a resin that gives the ice cream its chewiness.
Mochi from Japan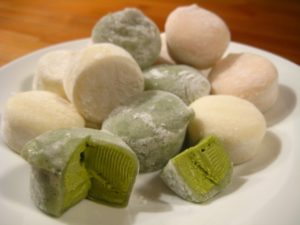 If you can rely on anywhere to produce unusual eats, it surely has to be Japan.  Mochi is full of delicious silky ice cream wrapped in a thin and sticky rice cake.  Available in a wide variety of flavors, these little balls of loveliness are fast becoming a popular way of eating ice cream both in Japan and in other parts of the world too.
I Tim Pad from Thailand
I Tim Pad, also known as rolled ice cream, is a sweetened frozen liquid mixture that is stirred to incorporate air spaces on an ice pan and simultaneously cooled to -20 degrees. This impressive looking technique leads to rolls of smooth, semi-solid ice cream, topped off with lashings of extra sweet sauce or decorations.  Rolled ice cream is particularly popular when served up by theatrical street vendors who create great thick wedges of deliciousness.
J-Cone's from South Korea
These quirky and somewhat saucy ice cream cones may look a little odd, but when it comes to eating ice cream they are utterly genius.  Based on a South Korean desert called 'Jipangyi', these Churro-like cones are designed to maximize the ice-creamy goodness and minimize drips and spillages.  Tuck in, if you are brave enough!
Spaghettieis from Germany
The Germans have found a unique way to mix up their desserts, by making them look like main courses. Spaghettieis is a yummy combination of vanilla ice cream, strawberry sauce and white chocolate all put together to look like a plate of Mamma's finest spaghetti.  The ice cream is put through a spaetzle press to give it the appearance of spaghetti noodles, but with all the deliciousness of ice cream instead!  Genius!
Nitrogen Ice Cream From Florida
Well, we couldn't compile a list of the world's most excellent ice cream without including ours now, could we?   Whatever floats your boat, we are pretty confident that our flash frozen Nitrogen ice cream could rival anything else you will find anywhere in the world.
Why not visit us at Frostbite and try it for yourself today?
The best way to find out more about Frostbite Nitrogen Ice Cream is to experience it for yourself. Stop in with your kids, friends, Grandparents, date, or even just yourself. You won't be disappointed!  Click our LOGO below to enter our website where you can discover more about us!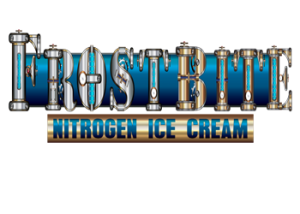 2125 S. University Dr.
Davie, Florida 33324
954-368-3642