Here in America, we have a bona fide obsession with everything ice cream.  This is nothing new though, and since the turn of the century, we have been enjoying the icy delights in a variety of different guises.
If you can imagine a time when you were not able to pick up an endless array of flavors at your local store, your fellow Americans took a trip to ice cream parlors and soda fountains that could be found up and down the land.  As the social hub of many small towns and a great place for first dates, family treats, and special occasions, the ice cream parlor has also held a special place at the heart of every community.
These days, you can get your ice cream fix at the market, from a street vendor, at the movies, at the game and pretty much anywhere else you can think of too.  But nothing makes it feel more special than picking out your favorite flavor, selecting your toppings and chowing down at a table as a special treat.
At the height of their popularity, ice cream parlors were gaudy and glitzy, offering everything from ice cream to pastries and in some cases even oysters too.  Considered a great place to head out for family gatherings, hang out after school or someone to take your date, mid-century ice cream parlors became an institution all of their own.  Giant ice cream cones or soda fountains invited diners from near and far to drive on up and find a seat to enjoy super tasty flavors and vintage charm.
In the 1950's, lining up for malted shakes, ice cream floats, and simple sundaes was an absolute delight.  These days, our ice cream parlor may give you more choice, but the simple values of the American ice cream dream still prevail. Here in our steampunk themed cafe, you can still look forward to treating yourself to something extra creamy and utterly delicious.
Frostbite is not just about innovative ice cream and unusual desserts, freshly frozen for your pleasure, it is also about creating a relaxed atmosphere for all of our visitors to enjoy.  We want our modern-day ice cream parlor to give you the same warm, fuzzy feelings that were found in days of old, and our friendly staff work hard to give you that.
The technology behind our ice cream may be cutting edge, but our values are as traditional as apple pie.  We have worked hard to create an atmosphere like nowhere else and we welcome you to join us here.   We have created unique interiors where there is always plenty of fresh flavors and delicious desserts on offer, great music in the background and a very warm welcome.
Our trendy dessert hot spot is the perfect place to enjoy modern day ice cream served up with a traditional smile.
Can't get to us?  No problem
In keeping with the convenience of modern day living, we can even deliver our delicious desserts to you if you can't make it to us – Uber Eats, Doordash and Postmates will all deliver our treats to your very own home, so you can create your own ice cream parlor in the comfort of your living room.
The best way to find out more about Frostbite Nitrogen Ice Cream is to experience it for yourself. Stop in with your kids, friends, Grandparents, date, or even just yourself. You won't be disappointed!  Click our LOGO below to enter our website where you can discover more about us!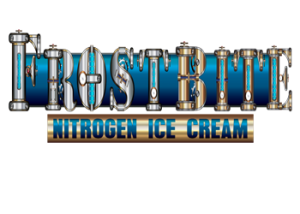 2125 S. University Dr.
Davie, Florida 33324
954-368-3642