Davie is a vibrant town in South Florida, that borders the Everglades on its western side. Being just about a half hour drive from Miami, our town is a great place to stop to experience an Authentic Floridian welcome, in stunning, lush sunny surroundings.
Seminole Hard Rock Hotel & Casino
As the premier gambling destination in South Florida, the Seminole Hotel & Casino never disappoints. With a busy program packed full of world-class live events and with lots of local celebrities in attendance, this is the place to go to experience the very best of Davie.  The resort offers great restaurants, buzzing nightlife and first-class shopping, as well as live entertainment and year-round concerts and events.
Sawgrass Mills Mall
If you are looking for some serious retail therapy, Sawgrass Mills Mall has it all.  As one of the largest value retail shopping destinations in the country, you can find everything at Sawgrass Mills, from sporting equipment to beauty products, home accessories, fashion and jewelry, toys, electronics, and much, much more.
Old Davie School Historical Museum
If you are interested in the history of the local region, a visit to the Old Davie School Historical Museum will transport you back in time to discover the world of the 20th-century pioneers of Western Broward County.  The old building has been lovingly restored to give visitors a unique and entertaining insight into the history of our beautiful town.
The Billie Swamp Safari
Located so close to the Everglades, visitors won't want to miss this experience.  Offering a unique chance to experience the habits of the wetlands, and the creatures that inhabit it, a visit to the Billie Swamp Safari is a great day out.  Glide along the trails through cypress forested swamps where you will see turtles, birds, raccoons, and even alligators, or jump aboard a Swamp Buggy Eco-Tour and hover your way out to see the water buffalo, ostriches, wild pigs and bison that the wetland regions are so famous for.
Flamingo Gardens
This gorgeous Everglades sanctuary is home to 60 acres of animals and lush green scenery and offers access to a comprehensive collection of indigenous wildlife including panthers, eagles, bobcats, alligators and, of course, the famous flamingos.  The park is also home to 21 'Champion' trees, the largest trees of their species, including the largest orange tree in all of Florida.
Las Olas Boulevard
Las Olas is one of the most beautiful and unique destinations in all of Florida.  Visitors come to stroll along the Boulevard while enjoying the unique architecture, upscale shopping, bustling bars and fine dining establishments, all laid out on airy breezeways beside the water.  Las Olas offers a true taste of the good life here in South Florida.
Frostbite Nitrogen Ice Cream Cafe
Yeh, OK, so we couldn't resist adding our lil' cafe into the mix. If you are heading to Davie sometime soon, you should definitely pay us a visit.  Our frozen desserts are super tasty and offer millions of different taste combinations, all served up in our relaxed and friendly, steampunk-themed cafe.
So, what are you waiting for?  Come explore our town today and stop by Frostbite Nitrogen Ice Cream Cafe for a frozen treat on your way through.
The best way to find out more about Frostbite Nitrogen Ice Cream is to experience it for yourself. Stop in with your kids, friends, Grandparents, date, or even just yourself. You won't be disappointed!  Click our LOGO below to enter our website where you can discover more about us!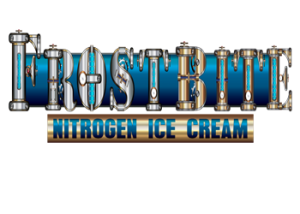 2125 S. University Dr.
Davie, Florida 33324
954-368-3642