We all know the familiar sounds of the ice cream truck. Even now, as sensible and mature adults, it's hard to overcome the urge to drop what you're doing and run out to the truck, overflowing with excitement about which great flavor we should try today.
But did you ever wonder about the history of the phenomenon that has been drawing children (and giant, adult children) towards it for generations?
I'm gonna tell you anyway, so grab a cone and settle down for some history…
Back in the 19th Century, when the majority of city dwellers lived in poverty and filth, ice cream carts became a big thing. You may have seen photos of them or noticed them in films set in the era. However, you can remove any romantic notions you may have about them, as they were little more than mobile germ factories!
Back then, if you were in the mood for some ice cream, you'd visit one of these carts, manned by some unwashed kid and buy a plate of ice cream. You would then lick the plate clean and return it to the kid before heading off to be violently ill. You see, the plate you just handed back would be wiped 'clean' and be ready for the next guy. The trouble was that until the 1890s, milk in the US wasn't pasteurized, which meant that any dairy product was a gamble. Many "ice cream epidemics" flared up around that time as a result of this.
By 1904, things had massively improved, especially in the ice cream hygiene world, and ice cream was back in favor.  At the 1904 World Fair, some bright spark came up with the novel idea of scooping ice cream into a wafer cone, thus providing the ideal ice cream transportation device. The idea took off and seems to have lasted.
In the 1920s, a man called Harry Burt of Youngstown, Ohio came up with a great idea. He stuck a refrigerator into his truck, loaded it with chocolate covered ice creams and set off to deliver low cost the treats to Depression-hit families across the region.
The idea spread across the nation and, soon, ice cream trucks prowled neighborhoods all over the place. World War II and the associated sugar rationing nearly killed off ice cream trucks for good but, in Post-War America, things soon bounced back.
Today, ice cream trucks still ply their trade to us all, cruising along slowly, playing out a song that promises a few moments of happiness along with delicious memories of a happier time in our lives.
Nitrogen Ice Cream from Frostbite
If you crave the traditional flavor of ice cream, but fancy something brand new and up to date, come visit us in our steampunk themed cafe.  We offer millions of awesome taste combinations, all made using our deliciously creamy nitrogen ice cream, blended with a ton of different flavors and toppings.
We don't have a truck (yet), but we can serve up all of your most awesome ice cream dreams either in our cafe or out at your venue or event.  Speak to us today at (954) 368-3462 to find out more.
The best way to find out more about Frostbite Nitrogen Ice Cream is to experience it for yourself. Stop in with your kids, friends, Grandparents, date, or even just yourself. You won't be disappointed!  Click our LOGO below to enter our website where you can discover more about us!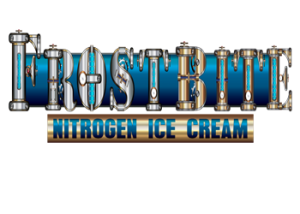 2125 S. University Dr.
Davie, Florida 33324
954-368-3642