If you've ever dreamed of dining like a millionaire or an Egyptian pharaoh, Frostbite Nitrogen has just what you want. The ice cream shop's Billionaire Golden Oreo Sandwich is dusted in edible gold and filled with custom ice cream flavors to suit any sweet tooth.
Frostbite Nitrogen is the latest innovators of the ice cream sandwich, a treat that's been delighting kids and adults since 1899. It all began with a vendor in the Bowery of New York that placed ice cream between two milk biscuits. The ice cream sandwich transitioned to vanilla ice cream between chocolate wafers in 1945 that was sold at Forbes Field and became the ice cream sandwich that people are familiar with today.
Enter the Oreo Biscuit on March 6, 1912. The name was changed to Oreo Chocolate Sandwich Cookie in 1974. Sold in over 100 countries, the cookie's crème filling has included strawberry, lemon, chocolate and mint, but vanilla is the all-time favorite. The origin of the name Oreo is unknown, but it's speculated the name is derived from the French word for gold.
Speaking of gold, the rare and noble metal was used in Egypt during the time of the pharaohs. It was added to medicinals of all kinds in medieval times. Food grade gold is safe to eat and has been used by chefs in fine dining establishments to add a dramatic effect to cuisine ranging from pastries to meat dishes, along with cocktails and desserts. At Frostbite Nitrogen, it's a unique dessert treat.
Frostbite Nitrogen wants everyone to experience the sensation of dining like a king and the ice cream shop's Billionaire Golden Oreo Sandwich is a tasty way to enjoy a custom ice cream flavor between two Oreo cookies and liberally dusted with one of the most highly sought noble metals in the world. It's pure 24 karat gold magic.
The best way to find out more about Frostbite Nitrogen Ice Cream is to experience it for yourself. Stop in with your kids, friends, Grandparents, date, or even just yourself. You won't be disappointed!  Click our LOGO below to enter our website where you can discover more about us!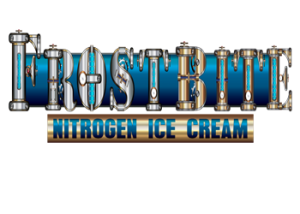 2125 S. University Dr.
Davie, Florida 33324
954-368-3642