The most important element for great tasting ice cream is fresh ingredients. More ice cream shops are turning to locally-sourced fruits, nuts, and even vegetables to create cold confections that are tasty, healthy and help support their local communities. An added advantage is that ice cream enthusiasts enjoy a true taste experience free of undesirable additives.
Once considered one of the most decadent of indulgences, ice cream is now readily available around the world and it actually provides some key nutrients the body needs that include calcium, B vitamins and potassium. Those benefits are increased with fresh ingredients and taste is enhanced.
Ice cream enthusiasts can enjoy new and unique flavors year-round thanks to an ever-revolving array of seasonal fruits as they come in season, depending upon the area of the country the ice creamery is located. Strawberries and blueberries are the most common fruits added to ice cream, but there are also raspberries, blackberries, along with bananas, mangoes and kiwis to be considered.
The ingredients are essential whether the confection is consumed as fresh ice cream or used to make ice cream bread. While many companies use real fruit in their frozen treats, those ingredients may also contain flavorings, stabilizers, emulsifiers and other chemicals to preserve the fruit until it's actually used. The resulting ice cream will have a pleasing taste and approximate a specific flavor, but there's a distinctly noticeable difference in those crafted with fresh ingredients.
Ice cream crafted with farm fresh berries and direct from the dairy milk has a richer, more full-bodied flavor. In search of that unique quality, many people have turned to home ice cream makers to obtain the taste they desire. Fortunately, many ice cream shops have turned to locally-sourced fresh ingredients to make their confections.
Rather than buying from mass producers, these forward-thinking ice cream shops make their own ice cream in small batches utilizing fresh milk, fruit and juices. It enables the purveyors of the sweet treat to produce unique, gourmet flavors free of artificial additives while supporting the economies of their local communities.
The best way to find out more about Frostbite Nitrogen Ice Cream is to experience it for yourself. Stop in with your kids, friends, Grandparents, date, or even just yourself. You won't be disappointed!  Click our LOGO below to enter our website where you can discover more about us!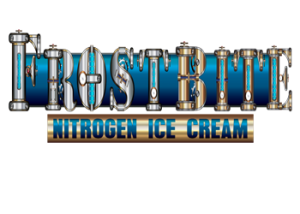 2125 S. University Dr.
Davie, Florida 33324
954-368-3642