When it comes to ice cream, the only thing that makes it better is a topping. Because there are millions of toppings to choose from and everyone has their favorite, making a Best Toppings List very difficult to write with any authority. However, let's have a go anyway.
Here is a rundown of some of the most popular ice cream topping choices currently available on this fine planet of ours (in no particular order, of course) …
Caramel. Oozing, gooey goodness laden with flavor and aroma, caramel goes well with every sort of ice cream. You can have it hot or cold and it adds weight, taste and an air of superiority to your ice cream. Caramel has to be one of the best topping ever invented.
Whipped Cream. Providing the fluffy 'yang' to the heavy ice cream's 'ying', whipped cream gets straight to the heart of the dairy goodness taste that ice cream eventually delivers. It also turns a mundane dome of ice cream into a culinary work of art that's almost too pretty to dig into with your spoon. Almost.
Sprinkles. Would you like tiny, brightly-colored pellets of sugar to sit on top of your ice cream? How about hundreds of them, all different colors? Yeah, of course, you do! Sprinkles give the smooth ice cream a bit of crunch and texture, like a sugary crouton, and make that all-important first bite the best of them all. Fun fact: in the UK sprinkles are called Hundreds & Thousands. (I said fun, not useful).
Chocolate Syrup. Do I even need to write this up? Really? Fine. Chocolate syrup was invented by Zeus himself and handed down upon a winged unicorn ridden by a superhero. Probably. It's that good and turns any flavor of ice cream into an explosion of taste. I know I said caramel was good, but surely chocolate syrup is the best?
Strawberries. If you want to treat yourself AND get some healthy chow in you at the same time, slap some fruit on your ice cream. Everyone has a favorite, but the humble strawberry surely has to be in a class of its own? Juicy, tasty, colorful and healthy? What's not to dig about this natural lump of amazing?
Gummy Bears. Now you're talking! Gummy bears rule and shoving them in your ice cream only increases their awesomeness. They get cold, toughen up and seem to increase their flavor powers, making your ice cream into a hearty meal all of its own. I like the red ones the best. Or maybe the green ones…
There are loads of other toppings available of course, including some really odd choices that actually do work, but these ones seem to strike a chord with people the most. And if you can't decide between them, just go for the lot at once. Go on, treat yourself!
Topping Heaven Here at Frostbite
Here at Frostbite, we offer literally millions of flavor combinations using the finest quality ingredients, the freshest fruits and the creamiest, most delicious ice cream ever made.
If you need to find out what the nation's number one topping taste is, come on down to Davie and try them all for yourself.
The best way to find out more about Frostbite Nitrogen Ice Cream is to experience it for yourself. Stop in with your kids, friends, Grandparents, date, or even just yourself. You won't be disappointed!  Click our LOGO below to enter our website where you can discover more about us!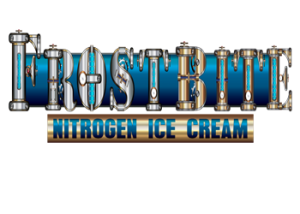 2125 S. University Dr.
Davie, Florida 33324
954-368-3642