The cold thrill of delicious ice cream is enticing enough on its own, but add in some fresh flavors, cheeky treats, and saucy extras and you can take your chilled desserts to a whole new level.
Here in our steampunk themed cafe, we create the creamiest and smoothest ice cream you have ever tasted.  Our 10 ft nitrogen tank is specially designed for making ice cream, yogurt or even non-dairy ice cream, by flash-freezing the ingredients using liquid nitrogen. At -321 degrees Fahrenheit nitrogen is way beyond cool, and we can add over 3 billion flavor and topping combinations to find the right one for you
Our expert ceramists know how to combine flavors to create mind-blowing taste sensations.
Not sure which one to go for?   Here are some of our favorite flavor combinations that have our customers coming back for more:
Salted Caramel – This sweet and salty combination blends the sugary sweetness of caramel with the flavor-enhancing qualities of salt, making it just right.
Matcha Green Tea – This Japanese ice cream flavor is sweet and creamy but with a slightly bitter after-taste.  It has a very complex flavor and texture and is guaranteed to amaze your taste buds.
Dulce de Leche – This thick Spanish caramel flavor is made using sweetened milk and offers the most amazingly rich sugary deliciousness to our already gorgeous nitrogen ice cream flavors.
Red Velvet – Much more than just a cake flavor, our red velvet ice cream tastes like rich chocolate and is passionately red in color, perfect for more grown-up ice cream aficionados.
Cake Batter – Forget cookie dough, cake batter is the next big thing in ice cream flavor.  Imagine the gloopy deliciousness that you scoop out of the mixing bowl, but ice cold and incredibly creamy.  Yum!
Peanut Butter – Yep, you read that right.  We mix our flash frozen nitrogen ice cream with a hint of super tasty peanut butter, adding a slightly salty taste and lots of crunchy goodness.
It's not just single flavors we offer either.  You can increase the sweetness by adding extra toppings and sauces with one of our awesome ice cream sundaes. Here are some of our favorite:
Strawberry Cheesecake – Combining the awesome flavors of the this cheesy, creamy, super sweet pie, our Strawberry Cheesecake Sundae is a melt-in-the-mouth mixture of our bestselling vanilla bean ice cream, fresh strawberries, strawberry sauce and crunchy, munchy chunks of cheesecake bites.
Molten Mint – These sundaes are hot, fresh and incredibly cool! Made with our soft and creamy fresh mint ice cream, this flavor combinations offers a crisp menthol flavor mixed with the sweet richness of chocolate fudge sauce.
Mango Paradise – Exotic to the core, our Mango Paradise Sundae offers a heady blend of smooth mango ice cream, fresh blueberries, sweet and sticky strawberry sauce, all topped off with toasted coconut!
In fact, all of our flavor combinations rock! Whatever you want – you've got it!  Come visit us at our steampunk themed cafe and watch our creamists create the ideal flavor for you.
The best way to find out more about Frostbite Nitrogen Ice Cream is to experience it for yourself. Stop in with your kids, friends, Grandparents, date, or even just yourself. You won't be disappointed!  Click our LOGO below to enter our website where you can discover more about us!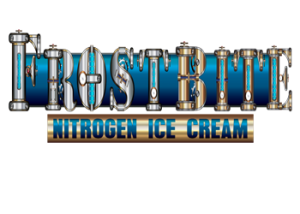 2125 S. University Dr.
Davie, Florida 33324
954-368-3642