Here at Frostbite Nitrogen Ice Cream, we understand that whether you are 8 years old or 88, everyone loves the sweet taste of our delicious frozen desserts.  With over a million combinations of freshly frozen nitrogen ice cream, toppings and sauces, we have something to suit everyone who walks through our doors.  But did you know, we also offer treats for grown-ups too?
Our alcoholic ice cream treats are almost as much fun to watch make as they are to eat. With plenty of nitrogen smoke and a little bit of drama, we have managed to turn the creamy goodness of nitrogen ice cream into an adults-only delight that adds that extra little "buzz" for your buck!
Alcoholic Ice Cream from Frostbite
Because we love everything about ice cream and know that we are the experts in dreaming up new flavors, it is no surprise that our menu caters for grown-up diners too.
Our nitrogen ice cream freezes to a rather chilly – 320 degrees, meaning we can literally freeze alcohol.  This process allows us to create impressive looking, super tasty frozen alcoholic cocktails right in front of your eyes.  Get buzzed with us and try some of our favorite ice cream cocktails – strictly for adults only.
Mango Margarita – Enjoy a taste of the 1930's with this classic margarita with a mango twist.  Made with freshly frozen mango ice cream, tequila, margarita mix and triple sec, this is one fruity treat that packs a punch.
Pina Colada – Take yourself away on vacation with the exotic taste of our Pina Colada ice cream.  Made using fresh coconut ice cream, pineapples, rum and extra coconut rum, you will be drifting away to your own private paradise in no time.
Strawberry Cheesecake Daiquiri – A bartender's favorite with a sugary twist, our Strawberry Cheesecake Daiquiri is a delicious blend of strawberry ice cream, cheesecake and rum.
Chocolate Chip Mojito – Another modern take on a traditional classic, our mojitos are made using our creamy mint ice cream, lots of lovely rum, mojito mix and a generous sprinkling of chocolate chips.
Cake Batter Vodka Martini – Not for the faint-hearted, this extra sweet concoction is made from our exquisite cake batter ice cream, plenty of sprinkles and vodka!
Cookies and Irish Cream – Everyone loves cookies and cream, but our grown-up flavor is even more tempting.  Keeping things super tasty with our cookies and cream ice cream, delicious Oreo's, Irish cream and vodka.
Spiked Coffee – Like iced coffee but better, our spiked coffee is an intriguing blend of coffee ice cream, gooey chocolate brownie, Kahlua Coffee liqueur and, of course, vodka!
Frisky Whiskey – The clue is most definitely in the title for this one.  By adding whiskey to our chocolate caramel salted ice cream and lots of fudge, we have made a frisky treat that is set to impress.
Tipsy for Nutella – Nutella, booze and brownies?  What's not to like?  By blending our specialty Nutella ice cream with brownies, choco noir and vodka, this is definitely a chocolate blast that packs a punch.
No Booze?  No Problem
If you don't drink, are the designated driver or simply want to try something without alcohol, we have plenty for you guys too.  Sophisticated flavors like cafe espresso, matcha green tea, amaretto and even pistachio, offer the perfect mix of sweet and savory that adds something just a little bit different.
Something for Everyone at Frostbite
Whatever your age, and whatever your favorite ice cream – we've got something for you.  Pop by and see us sometime soon.
The best way to find out more about Frostbite Nitrogen Ice Cream is to experience it for yourself. Stop in with your kids, friends, Grandparents, date, or even just yourself. You won't be disappointed!  Click our LOGO below to enter our website where you can discover more about us!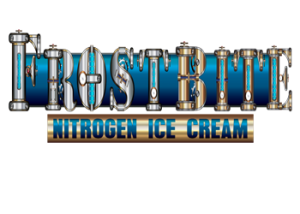 2125 S. University Dr.
Davie, Florida 33324
954-368-3642