Here at Frostbite, we are passionate about ice cream – making it, tasting it and sharing it with all of our lovely customers like you.  We are also a bit geeky about the whole thing too. From the scientific know-how needed to create creamy and comforting nitrogen desserts to learning about the history behind some of our country's favorite sweet treats.
From apple pie to chocolate brownies, America has a long-lasting love affair with all things sweet, and the humble banana split has always been a favorite. In case you have ever wondered about the origins of this delicious fruity, creamy and thoroughly fabulous dish, here is our look at one of the most classic desserts in history.
From humble beginnings…
In 1892, Chester Platt, a druggist in the university town of Ithaca, New York, stuck a cherry on top of a dessert and called it a Sunday, after the day he created it on.  Just a few short years, and one name change later (Platt renamed his concoction a "sundae" to appease church representatives), and every ice cream parlor and drug store in the country was selling these popular iced desserts.
One such man was David "Doc" Strickler, an apprentice pharmacist at Tassell's Pharmacy in Pittsburgh.  According to local legend, Stickler was approached by a young customer who challenged him to make something "different." Among the ingredients before him was the banana, and he promptly cut the fruit in two and added ice cream, sprinkles and a cherry to create the world's first official "banana split".
Always Time for A Treat
During the depression years, families were rarely able to enjoy the finer things in life like a meal out together.  What they did do, however, was go out for dessert, leading to an explosion in ice cream parlors and dessert houses across the USA.  As Americans fell further in love with all things sugary, the Banana Split also grew in popularity.  By combing a relatively exotic fruit, ice cream, fresh cream, and a cherry, purveyors of fine desserts created a sweet treat that was perfect for all the family.
Over the years the appeal of the banana split began to fade a little as ice creams became available in a huge variety of flavors, with a wide array of toppings and extras.  But, here in 2018 the Banana Sundae once again stands tall, as this retro dessert is back on the menu with a bang!
What Makes A Great Banana Split?
If you want a really good, traditional style banana split, there are a few ingredients you will need.  First, find yourself a glass boat shaped bowl and add plenty of chocolate sauce at the bottom.  Next pop in a scoop of chocolate, vanilla and strawberry ice cream to form the base, then cut the banana in half and place on either side of the boat bowl.
This is your basic banana split, but it needs a little something extra.  Open a tin of pineapple chunks and add a few over the top of the ice cream, along with some more chocolate sauce.  Once they are nicely settled, it's time to whip out the whipped cream.  Spray in small circles over each scoop of ice cream, until you have a veritable mountain of loveliness in front of you. Finally, sprinkle finely diced nuts and sprinkles, add a cherry and you are good to go!
Banana Splits from Frostbite Nitrogen Ice Cream
Here at Nitrogen, we have our own special way of creating mouthwatering delicious Banana Splits.  Why not head down to our steampunk themed cafe and try one for yourself today!
The best way to find out more about Frostbite Nitrogen Ice Cream is to experience it for yourself. Stop in with your kids, friends, Grandparents, date, or even just yourself. You won't be disappointed!  Click our LOGO below to enter our website where you can discover more about us!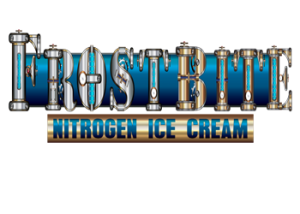 2125 S. University Dr.
Davie, Florida 33324
954-368-3642