In an argument almost as old as time itself, the debate still rages on as to whether the humble ice cream cone beats the cup, or is it the other way around?
Here at Frostbite, we just want you to savor the deliciousness of our nitrogen ice cream.  To us, both the cup and the cone are vessels for your further enjoyment.  But, in an effort to solve this quandary once and for all, we investigate which one wins – the cup or the cone, or is it simply just too close to call?
Let's consider the evidence, either way:
The Cone
From the humble wafer to the most fashionable artisanal cone on the block, the ice cream cone has always added something extra to your ice cream experience.  Whether you are tucking into those first delicious licks, or crunchy away on the bottom as the ice cream melts on your hand, the cone is an edible vessel that just adds to the fun and flavor.
The ice cream cone is actually a work of genius; the very shape of it directs you down through a narrowing channel of deliciousness to a point where pleasure ends. You can keep it simple with one delicious scoop of fresh vanilla or pile it high with a variety of flavors and toppings.
Of course, the biggest benefit of eating ice cream out of a cone is the fact that you get to eat it!  Extra sugary loveliness that adds an extra crunchy, crispy dimension and is the perfect contrast against the rich creamy texture of the ice cream itself.
And then there is the choice!  No longer are the simple wafer cones of our childhood the only way to eat, you can choose from waffle cones or sugar cones, pretzel cones and chocolate-coated cones, as well as single cones, double cones and even half size cones for those trying to be good.
Nothing quite says summer like a lazy walk along the beach, with an ice cream cone in hand.  Sticky fingers from dripping deliciousness is far from an inconvenience, and rather just an additional finger licking benefit from enjoying ice cream the way it should be eaten – in a cone!
The Cup
From everything you have just read above, you probably think we have already called it and that we favor the flavor if the cone.  But, the truth is, we love the cup too!  After all, what the cone makes up for in taste and bite, it lacks in its physical ability to hold as much ice cream as a cup does.
With a cup, you can add multiple ice-cream flavors and ensure that there is always an equal distribution of toppings.  That may sound a little scientific, but it's true. Not only that, you can add heftier toppings than a cone could ever hold – think brownie bites, cake pops, and other gorgeous goodies, all mixed up with as many flavors as you like.
An ice cream cone will never manage to successfully hold more than 3 scoops.   But with a cup you can add sauces, sprinkles and virtually any else that takes your fancy, as that cup holds strong against drips and spillages, allowing you to consume every last mouthful with your dignity still intact.
The Conclusion
Have you decided yet?  We certainly haven't, and we are happy with that.  We want our customers to enjoy every last mouthful of our freshly frozen nitrogen ice cream, and we serve it scooped onto cones, flowing out of cups, sandwiched between Oreo cookies and even out of funky bulb glasses!
Taking ice cream to the next level, the hardest decision you will have to make at Frostbite is not just whether to choose a cup or a cone, but how to choose from so many amazing flavors and combinations, all freshly frozen in front of you!
The best way to find out more about Frostbite Nitrogen Ice Cream is to experience it for yourself. Stop in with your kids, friends, Grandparents, date, or even just yourself. You won't be disappointed!  Click our LOGO below to enter our website where you can discover more about us!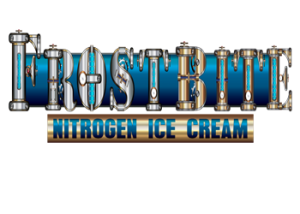 2125 S. University Dr.
Davie, Florida 33324
954-368-3642