First dates can be super exciting, but don't forget to plan your date in advance to ensure that you get those all-important first impressions just right.  Too laid back and your date may think you are a bit boring, too over the top and they may think you are trying too hard.
Here in Florida, we have so many perfect places to plan your first date, you may be overwhelmed by which activities suit you best.  A walk along the beach is romantic and holding hands in the park are the stuff that dreams are made of but try a little harder if you really want to impress.
Here at Frostbite Nitrogen Ice Cream, we love to watch love blossom across the tables in our very own steampunk cafe.  But, because we also love our neighborhood, here are some fun and unusual ideas on how to impress on your first date this summer.
Go fruit picking
Everyone loves fruit, right?  Florida is full of U-Pick farms and spending an hour or so picking up delicious goodies is a fun way to break the ice and get to know each other better.  You will be busy looking for the cream of the crop, so no awkward silences, and you will have something to take away with you to enjoy later.  Choose from regular fruit like strawberries, blueberries, grapes or peaches, or show your exotic side with persimmons, star fruit or avocados.
Try Ice Skating
Ice skating is an instant leveler.  No matter what you do in your day to day life (unless you are a professional skater, of course), ice skating is a great way to both enter the ring on an equal footing.  Staying upright is hysterical and you have no choice but to stop worrying about what you look like and lean on each other for support.  Laughs are easy to come by on an ice skating date.
Book a dance lesson
Salsa and Latin dance classes are a great way to express your more passionate side in the most innocent way possible.  Dancing is good for the soul and even if you think you have two left feet, a great instructor will be able to get you moving.  Fun, fast paced and a great talking point, a dance lesson is a fantastic way to spend your first date together.
Go See A Movie, Outside
A trip to a movie theater is probably the most popular first date idea of all time. But, when you're in the dark, watching the action on screen, you have very little opportunity to interact with each other.  Find an outdoor screen, where you can still watch the movie, but also talk to each other at the same time.  And if the date goes well, what could be more romantic than snuggling up together on a blanket, watching a movie under a starry night sky?
Show your date that you take your taste in ice cream seriously by introducing them to some of the creamiest, freshest and tastiest ice cream to be found anywhere in Florida.  Here at Frostbite Nitrogen Ice Cream, our Nitrogen Ice Cream comes in a huge variety of flavors and can be mixed with as many toppings, sauces and sweet treats as you would like.
Our steampunk themed cafe comes complete with unique decor, friendly staff, and super tasty frozen treats, and because we love our customers too, we will be discreetly cheering you on from the sidelines too!
The best way to find out more about Frostbite Nitrogen Ice Cream is to experience it for yourself. Stop in with your kids, friends, Grandparents, date, or even just yourself. You won't be disappointed!  Click our LOGO below to enter our website where you can discover more about us!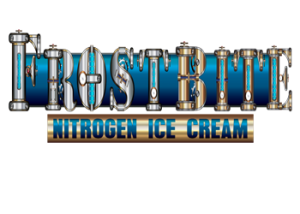 2125 S. University Dr.
Davie, Florida 33324
954-368-3642