The team that eats ice cream together, stays together! Whether you have had a hard practice session, an epic win or a difficult loss, joining your teammates for a spot of social R&R helps you to bond and refocus.
Our steampunk themed nitrogen ice cream factory and cafe is the perfect place to catch up and wind down after a game.  With millions of taste combinations available, you and your squad will love the unique decor, great music and friendly welcome from our staff.
Ease away aches and pains with a cold bowl of ice cream, an exotic sundae or something a little more unusual.  Whatever you choose to enjoy when you visit, our cafe has plenty of space for you guys to celebrate, plan your tactics for the next big game or just shoot the breeze over a dessert or two.
From Little League to semi-professional players, and even the occasional major league player too – we can accommodate you, your teammates, soccer moms, pitch line dads and anyone else you want to relax with.  Fabulous flavors for the all the family are on offer here.
NEW to Frostbite – Alcohol Infused Ice Cream
Looking for an alternative to a bar for your post-game get together?  We are delighted to announce that we now offer a full range of alcohol-infused nitrogen ice cream delights for adult players and their supporters to enjoy.  Choose from Mango Margarita, Strawberry Cheesecake Daiquiri, Chocolate Chip Mojito, Cake Batter Vodka Martini, Spiked Coffee, Pina Colada or Tipsy Nutella for your grown-up treat after the game.
Listen to great music and relax in our unique and unusual steampunk factory themed surroundings, whilst enjoying our alcohol-infused delights, all flash frozen using liquid nitrogen.
Why Your Team Needs to Play and Stay Together
Team sports, such as basketball, football, and soccer, require every member of the team to be able to work well together, both on and off the field. Training and practicing together is obviously important for the success of your team but finding ways to gel with each other outside of the game will help you play better in the end.
No game ever ends at the final whistle, and coaches, players and fans alike all take time to analyze performance and deconstruct how they could have played better.
Our ice cream cafe is a great place to sit back, relax and catch up with your teammates, and we are also delighted to welcome groups from all over Broward County who choose to do their post-match analysis over an ice cream here with us.  We hope to see you guys here soon too.
Can't Come to Us?  No Problem!  We Can Come to You
Did you know that you can order your delicious frozen desserts to be delivered to your sports field or training ground?  Uber Eats, Postmates and Doordash can bring our flavors directly to you.
If you are organizing an event for your team, like a celebration party or a fundraiser, we can even supply our own mobile nitrogen ice cream stand to keep your guests cool with Bulb Smoothies, Dragons Breath and a heap of fabulous flavors.
Speak to our team today at (954) 368-3462 to find out more.
The best way to find out more about Frostbite Nitrogen Ice Cream is to experience it for yourself. Stop in with your kids, friends, Grandparents, date, or even just yourself. You won't be disappointed!  Click our LOGO below to enter our website where you can discover more about us!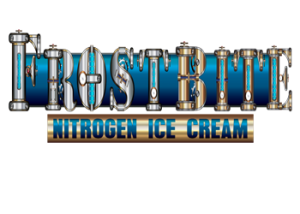 2125 S. University Dr.
Davie, Florida 33324
954-368-3642